Transition Timelines – A Great Resource
A transition timeline is a checklist of the supports and skills that parents and support providers should focus on at specific developmental milestones. This is sometimes referred to as a transition key. It is one of the most important tools for transition planning. Parents of children with NDD have many concerns and roles to play in helping their children to adulthood. They often need extra support to understand, prepare for, and teach the developmental skills that are necessary for adulthood. Transition timelines provide a framework for parents to do just that.
The Family Support Institute of BC has an excellent interactive timeline (click to view). It covers not only support and skill needs at specific developmental milestones but also provides a good checklist for parents to know what to work on in preparation for future milestones. Having this information helps parents create a plan to support and prepare for transitions throughout childhood and into adulthood.
Families typically need support with specific aspects of childhood milestones. Parents frequently look for support and direction with the following: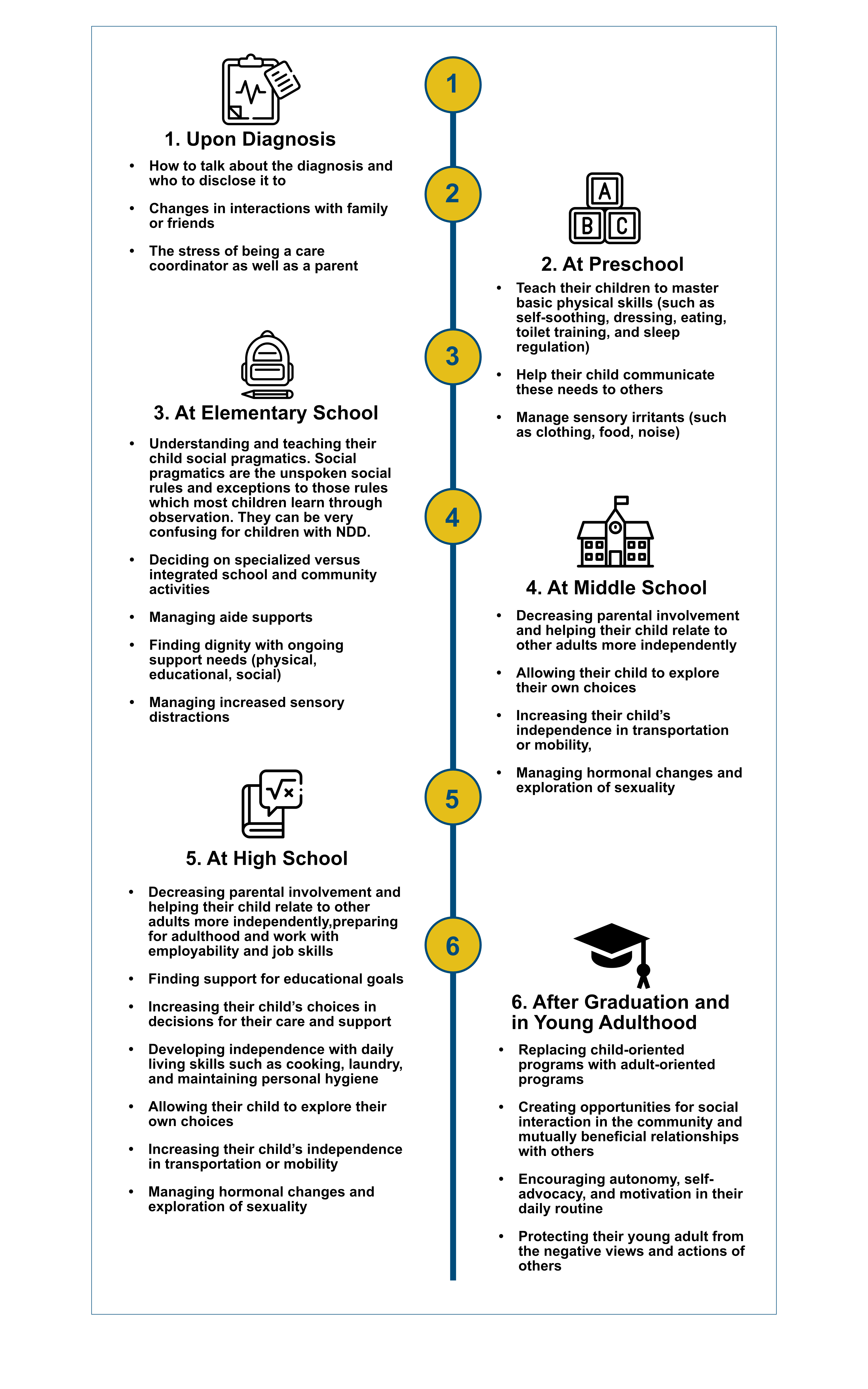 Parents can sometimes feel overwhelmed when they review a transition timeline. They may also need support in understanding that sometimes the demands of parenting are extensive.


It is important to understand that

Parents' time and energy are highly focused on managing their child's current needs. The need to develop adult life skills often sneaks up them.


Sometimes, parents may lack hope for a fulfilled adult life for their young person. Social support and positive role models are important. Parents may need support in building hope and a strategy in moving forward.


Finding opportunities to practice adult-oriented skills can be helpful. The balance between providing support for youth with NDD and knowing when to let them work things out for themselves, is a challenging but important process in moving toward adulthood.

A transition timeline gives parents the knowledge of typical developmental expectations and the actions and resources to consider so that they can create a good transition plan.
Last modified: Wednesday, January 19, 2022, 11:51 AM