Circles of Support / Worksheet
Overview—Circles of Support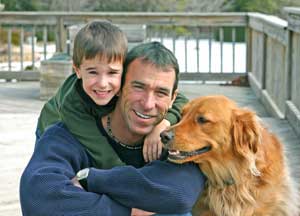 Resources are available to help you and your loved one on your journey. However, they rarely seek you out to offer help. You need to know what resources are available and how to engage them to support you and your loved one.
This module helps you build a circle of support by identifying appropriate resources within your community and government, and by advocating successfully for what you and your loved one with a chronic disability need.
Circles of Support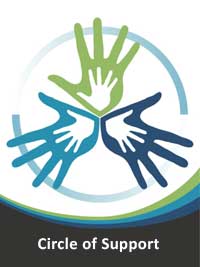 A circle of support is composed of individuals and organizations that help address the basic needs of an individual in order to ensure that the best possible quality of life is attained. Family and friends work together with the individual, along with those from formal support services such as health professionals, government administrators, community service providers, lawyers, insurance agents and disability-related advocacy groups. Because human needs are so inter-connected, a circle of support is best organized using a holistic and integrated approach to planning.
You are an important part of your loved one's circle of support. In your role as a caregiver, you may act as the coordinator of the circle of support or share that role with your loved one.
The coordinator identifies needs and involves other members of the circle to meet those needs by giving advice, making referrals or addressing needs directly.
Research skills may be required to find new members with the right skills, knowledge or services if there is a gap in your loved one's circle of support.
Advocacy skills may also be required to ensure that needed supports are provided in a timely and acceptable manner to achieve their purpose.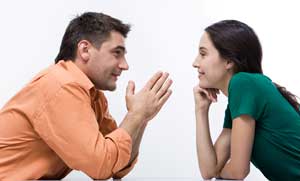 Caregivers also require their own circle of support in order to maintain their well-being. Your circle of support may overlap significantly with that of your loved one, but it should also include individuals and organizations that provide support to you alone, not to your loved one. Times may arise when your needs conflict, and when these situations occur, you need someone "in your corner" to keep your needs in balance with those of your loved one.
Circles of Support Worksheet
To save the Circles of Support Worksheet to your computer, right-click on the link and select "Save Link As..." or "Save target as..." .. You can then complete the editable PDF worksheet on your computer or print it out and complete it by hand. Once you have completed the worksheet, answer the following questions:
How much overlap is there in the two circles of support?
Are there gaps in your loved one's circle of support that need to be filled?
Are there gaps in your own circle of support as a caregiver?
Last modified: Tuesday, April 26, 2022, 2:02 PM