How Healthy Are You and Your Loved One?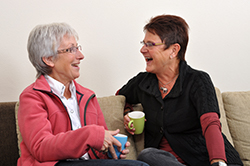 To help you assess your current health status as a caregiver and the health status of your loved one, the World Health Organization's 26-question Quality of Life survey (WHOQOL-BREF) is provided below. (Reprinted with its permission.)
Complete this survey with respect to yourself. Use the results to identify those aspects of health that you need to spend more time on and those that are well in hand.
Download a PDF version of the survey to complete and score on your computer.
Right-click on the link and select "Save Link As..." or "Save target as..." to download a copy to your computer.
It is recommended that you complete the survey using Adobe Reader, as other PDF programs may not calculate your score.
Last modified: Tuesday, May 21, 2019, 8:00 PM